Primo Levi Symposium
UCLA Faculty Center, California Room,
480 Charles E. Young Drive East




Los Angeles

,

CA

90095

United States
+ Google Map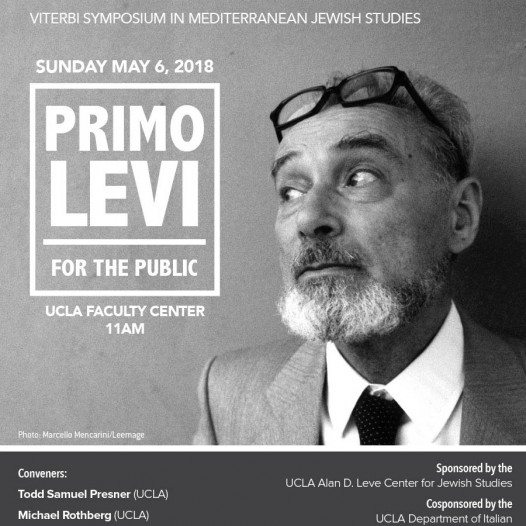 This half-day symposium brings together an array of international scholars and writers engaged with the history, literature, and impact of Primo Levi, a chemist, writer, and humanist who survived Auschwitz and, through his writing, provided generations of students and scholars with the philosophical language to understand the Shoah—and the modern condition. The symposium celebrates the publication, in 2015, of Levi's complete works in English (by translator Ann Goldstein, published by W. W. Norton) and probes the literary, philosophical, and historical legacy of Levi. 
You may find the attached program here.
To RSVP, please click here.
UCLA FACULTY CENTER, CALIFORNIA ROOM
11AM  INTRODUCTION BY CONVENERS
TODD SAMUEL PRESNER| UCLA  
MICHAEL ROTHBERG | UCLA  
SARAH ABREVAYA STEIN | UCLA 
11:15AM  SESSION 1: THE LEGACIES OF ITALIAN JEWISH HISTORY 
Chair: SARAH ABREVAYA STEIN | UCLA  
ANDREW VITERBI | UC San Diego (Emeritus)  
SERGIO LUZZATTO | University in Turin, Italy  
   Reluctant Veteran: Primo Levi's Position in Postwar Italy 

 
12:30PM  LUNCH BREAK 
1:30PM  SESSION 2: TESTIMONY & TRANSLATION 
Chair: STEF CRAPS | Ghent  
JONATHAN DRUKER | Illinois State University  
   Levi's 'Shame of the Just': On Ethical and Political Resistance after State Violence 

 
LINA INSANA | University of Pittsburgh  
   'The Language They Spoke Together was German': Translating the Scene of Bad Science in Levi's Science Fiction 

 
3PM  BREAK 
3:30PM  SESSION 3: THE POLITICS OF THE PRESENT 
Chair: MICHAEL ROTHBERG | UCLA  
SIMONA FORTI | Università del Piemonte Orientale, Italy  
   Primo Levi's Hidden Philosophy of Power 

 
ENZO TRAVERSO | Cornell University  
   Beyond the Holocaust: Primo Levi and the Public Use of the Past 

 
5PM  WINE & CHEESE RECEPTION (WITH BOOK SALE) 
5:30PM  KEYNOTE ADDRESS: THE ART AND CRAFT OF TRANSLATION 
ANN GOLDSTEIN | Translator