50th Anniversary Celebration!
Herbert Morris Humanities Seminar Room, Royce Hall 306,
340 Royce Drive




Los Angeles

,

CA

90095

United States
+ Google Map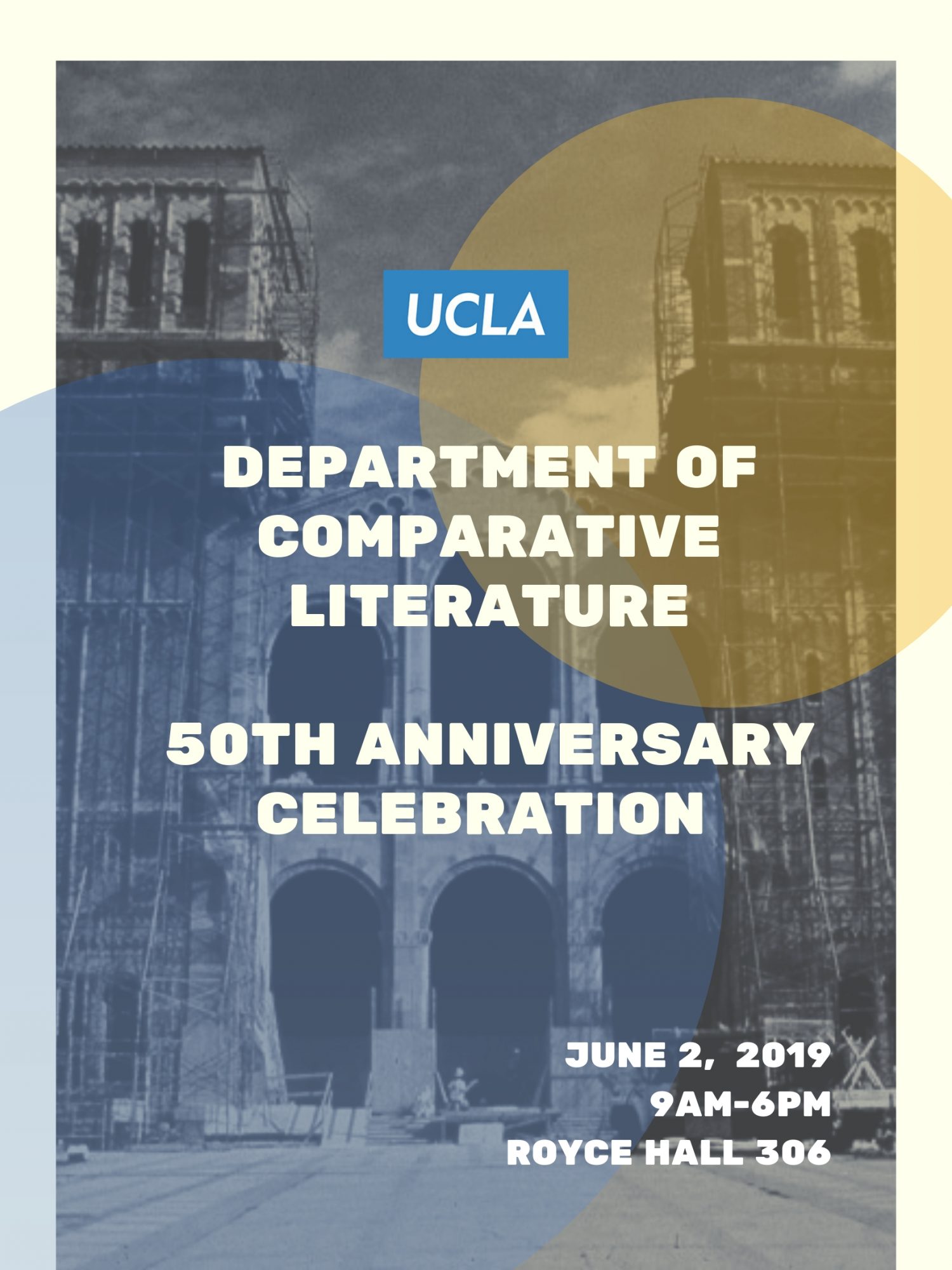 As part of UCLA's Centennial Celebration, the Department of Comparative Literature is celebrating its 50th birthday on June 1 & 2, 2019.  We will have two events. The first is a reception on June 1st from 4-6pm at Ross Shideler and Kathy Komar's home. The second will be a series of panels in Royce Hall with some of the Department's former chairs scheduled for the morning and an afternoon panel with a few of our former Ph.Ds. 
SCHEDULE
***
Saturday, June 1, 2019: Shideler/Komar Home
Reception, 4:00-6:00pm
***
Sunday, June 2, 2019: Herb Morris Room, Royce 306
–Breakfast, 9:00-9:30am–
Introductory Remarks, Comparative Literature Chair David MacFadyen 9:30-9:45am
Remarks by Dean of Humanities David Schaberg, 9:45-10:00am
Address by Founder Arnold Band 10-10:30
Panel of Former Chairs, 10:30am-12:30pm
Professor Ross Shideler
Professor Katherine King
Professor Kathleen Komar
Professor Efrain Kristal
Professor Ali Behdad
–Lunch, 12:30pm-2:00pm–
Panel of Former Students, 2:00pm-4:00p
Moderator: Jason Araújo, Comparative Literature UCLA
Carl Fisher, Senior Director, Academic Personnel, CSU Office of the Chancellor & Former Chair of Comparative World Literature, California State University Long Beach
Claire Gallou, Instructor of French, Phillips Academy, Andover
Hala Halim, Professor of Comparative Literature & Middle Eastern Studies at NYU
Damian Stocking, Associate Professor, Comparative Studies in Literature and Culture, Occidental College
–Reception, 4:00pm-6:00pm–
RSVP is required for attendance.